In the backyard of Wix: Two Israeli startups vying for website builders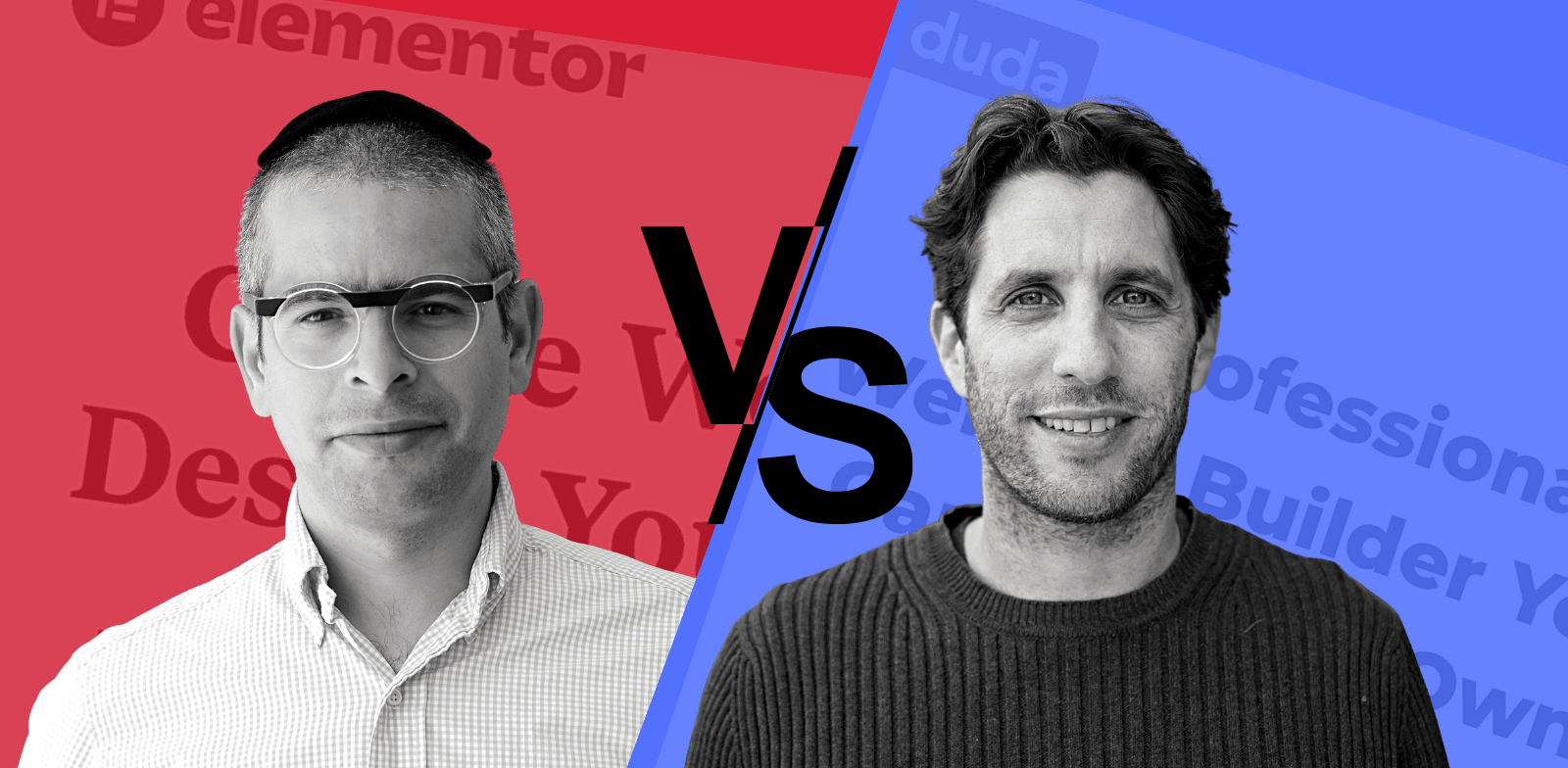 The website builder market is split almost evenly between the WordPress open source content management system camp and the rest of the world, which includes closed platforms. According to a survey conducted by W3Techs, WordPress – the free open-source platform created 18 years ago for creating blogs – is used by 43% of the 10 million most popular sites on the Internet. On the closed platform side, counting only the top three, the market is more decentralized, with Shopify powering 4.4% of the most popular sites, Wix 2.2% and Squarespace 1.9%.
This contrast between the two approaches, which some compare to the difference between open Android and closed iPhone, is expressed beautifully through the controversy sparked by a series of advertisements published by Wix last year under the slogan "You Deserve Better". The ads showed a web developer complaining to his therapist about all the issues he was having with open source WordPress, from security issues to multiple updates. "WordPress reminds me of my father, because they don't support me," the developer explains to his psychologist.
Those who didn't particularly appreciate the humor in the ads were many avid WordPress supporters, including its founder, Matt Mullenweg, who fired back at Wix for not allowing creators to export their content, "like a motel cockroaches where you can check in but never check out."
Wix is, of course, the best-known and largest Israeli company in the world of website builders, but it's not the only one. Two other relatively seasoned Israeli start-ups operate in this sector, one of which belongs to the WordPress camp and the other to its adversaries. Like Wix, startup Duda offers a self-contained content management, design, and storage system. Elementor, on the other hand, develops a free plugin for WordPress that adds professional website design capabilities.
Web Developers vs Agencies
Over the past year, Wix has received quite a bit of negative headlines due to its share price crashing from a peak market cap of around $20 billion to its $5.5 billion. current dollars. In Israeli terms, however, it's still a huge undertaking. It offers a wide range of products and caters to the general public, from the traditional Wix market of small business owners looking to create a website easily, to professional web designers and web design agencies, to whom it offers Editor X, launched in 2020. Duda and Elementor, on the other hand, are more limited in their offerings and cater to a more targeted market.
Duda, the older of the two, was founded by CEO Itai Sadan and CTO Amir Glatt in 2010 as Duda Mobile. He first engaged in developing websites specifically for mobile devices. After responsive web technology caught on, allowing any website to be optimized for any type of screen, Duda realized they had to make a change. Since 2014, Duda (which dropped "Mobile" from its name) has been developing a tool aimed primarily at professional web design agencies, which make up the majority of its 18,000 customers.
Duda's other target market is platforms that integrate the company's web design platform and sell it as their own. For example, web hosting company GoDaddy markets Duda in some countries as a web design solution for customers who have purchased storage space. As part of Duda's partnership with Tripadvisor, the tourism platform offers hotels the opportunity to create their own website using photos they have already uploaded there.
Elementor was founded in 2015 by web developer and designer Yoni Luksenberg, company CEO and CTO Ariel Klikstein, who worked for years as an outsourced services team, building custom websites at home. WordPress help. From this business, they expanded into selling WordPress design themes, before developing a plugin including a general visual editor, their current product.
Elementor defines its target market a bit more broadly than Duda and caters to web builders, a category that includes agencies and freelance website builders, but also professionals like wedding photographers, who create their own websites. Software review site Capterra gives Duda and Elementor similar scores of 4.6 and 4.7, respectively, out of a possible 5.
Large clientele vs high prices
Neither Duda nor Elementor disclose exact revenue figures – estimated at tens of millions of dollars in annual recurring revenue (ARR) – or their valuations. Duda has raised $100 million to date, including $50 million in its most recent round, last year, led by Claridge Israel. Elementor, on the other hand, has only raised $16 million to date, the vast majority from US-based Lightspeed Venture Partners, which led its only major round in 2020. Despite this, Elementor is the most large company in terms of workforce, employing 370 people. people, compared to 220 in Duda. It is also growing faster in terms of recruitment, having increased by 47% last year, while Duda has only increased by 22%, according to data from LinkedIn.
The big advantage of Elementor is the large community that has formed around its free open-source version. Elementor has 215,000 followers on its Facebook page, for example, compared to just 50,000 for Duda. This advantage is also reflected in their W3Techs survey results, which found that 7% of the top 10 million sites were built using Elementor, up from 5% a year ago. This makes Elementor the second most popular WordPress plugin out of around 60,000 plugins. In contrast, only 0.2% of top sites were built with Duda, according to W3Techs.
However, the vast majority of sites built with Elementor are based on the free version. The company reports that out of around 10 million active Elementor-based sites, only half a million are paying customers. Because Duda traditionally offers an end-to-end package including storage and content management, it can also charge a higher price, starting at $168 per year for the most basic package. Elementor's traditional product, on the other hand, is a design-only plugin that starts at $49 per year.
Compete with Wix and Other Challenges
Given their different business models, the main challenges that Elementor and Duda face also differ. Elementor's main goal seems to be to convert its very large user community into a bigger revenue stream. To that end, the company launched a web hosting service last month and now sells a plugin and hosting package starting at $99 per year, twice the price of the plugin alone.
Conversely, Duda's objective is to strengthen its offer to web development agencies in the face of growing competition from players like Wix, which between 2019 and 2021 tripled its revenue from professional agencies and designers. To that end, Duda is developing capabilities that will appeal to these agencies, such as payment collection and real-time customer feedback capabilities.
Bottom line: Elementor is unique in its industry, not only because of its ultra-Orthodox founders, but also because it created a third-party plugin for another program — not your typical starter choice. But the company managed to gain significant popularity, which it now needs to translate into revenue. Duda, on the other hand, is a more traditional start-up that focuses on a specific niche in the website building market, a niche that giant players are also trying to conquer.
Published by Globes, Israel business news – en.globes.co.il – on March 30, 2022.
© Copyright Globes Publisher Itonut (1983) Ltd., 2022.